Activate Joy: The Christmas Dream Team Parade
Sunday, December 17, 2017, 6:00 PM - 7:00 PM
Our Children's Choir will bring the stage alive with the sounds of Christmas in the new musical, "The Christmas Dream Team Parade." This is an encore performance of the World Premiere that was presented in July and recorded for distribution nationwide.
It's Christmas Eve at the Carter home, and everyone is excited about the Christmas parade. However, the Carter kids begin to lose sight of the true reason we celebrate Christmas. Join the adventure as the characters learn about the importance of following Jesus and celebrating His gift of life above everything else.
Admission is free. Please bring an unwrapped toy for an underprivileged child.
Activate Joy is the third of four events in the Activate Advent series. Learn more about the other events:
Activate Hope Activate Peace Activate Love
For more about ACTIVATE ADVENT: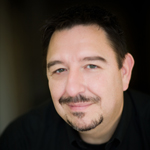 John Frank Reeve
Minister of Music
337-593-3748