Sunday School
At First Baptist Lafayette, Sunday School is about reaching people for Christ, teaching people God's Word, and ministering to people in the name of Jesus. Our goal is to provide you with Bible learning opportunities that promote transformation of life. Our core groups meet on Sunday mornings at 8:00, 9:30 and 11:00 a.m. We offer co-ed groups as well as groups for men and women for:
young adults
median adults
senior adults
special needs
deaf, and
Chinese.
We want a group for everyone and everyone in a group! It really is where life and ministry at First Baptist Lafayette begins!
Discipleship
Adult Discipleship Groups encourage intense focus for a few weeks on some aspect of a believers' walk with Christ Jesus. Courses are offered on Wednesday evenings and at other times in the spring and fall each year. These classes vary each semester and include subjects such as: theology, prayer, how to read and study your Bible, Old and New Testament survey, Experiencing God, relationships, money matters, how to share your faith, and many others. Some classes are specifically for men or women. Leadership training is offered for those teaching classes or in other leadership positions.
Evangelism
FAITH is an evangelism training strategy linked directly to the ongoing work of the Sunday School. FAITH teaches a simple but effective gospel presentation utilizing a team of three people. Classes and visitation are offered on Tuesday evenings, with a goal of each team visiting prospects and members of their Sunday School class. We encourage every adult Sunday School class to be represented in this primary evangelism strategy of FAITH.
First Look
First Look is a two hour seminar designed for new members and prospective members. It covers the beliefs, history, ministries, missions, and other things about First Baptist Lafayette. First Look is offered five or six times each year.
Women's Ministry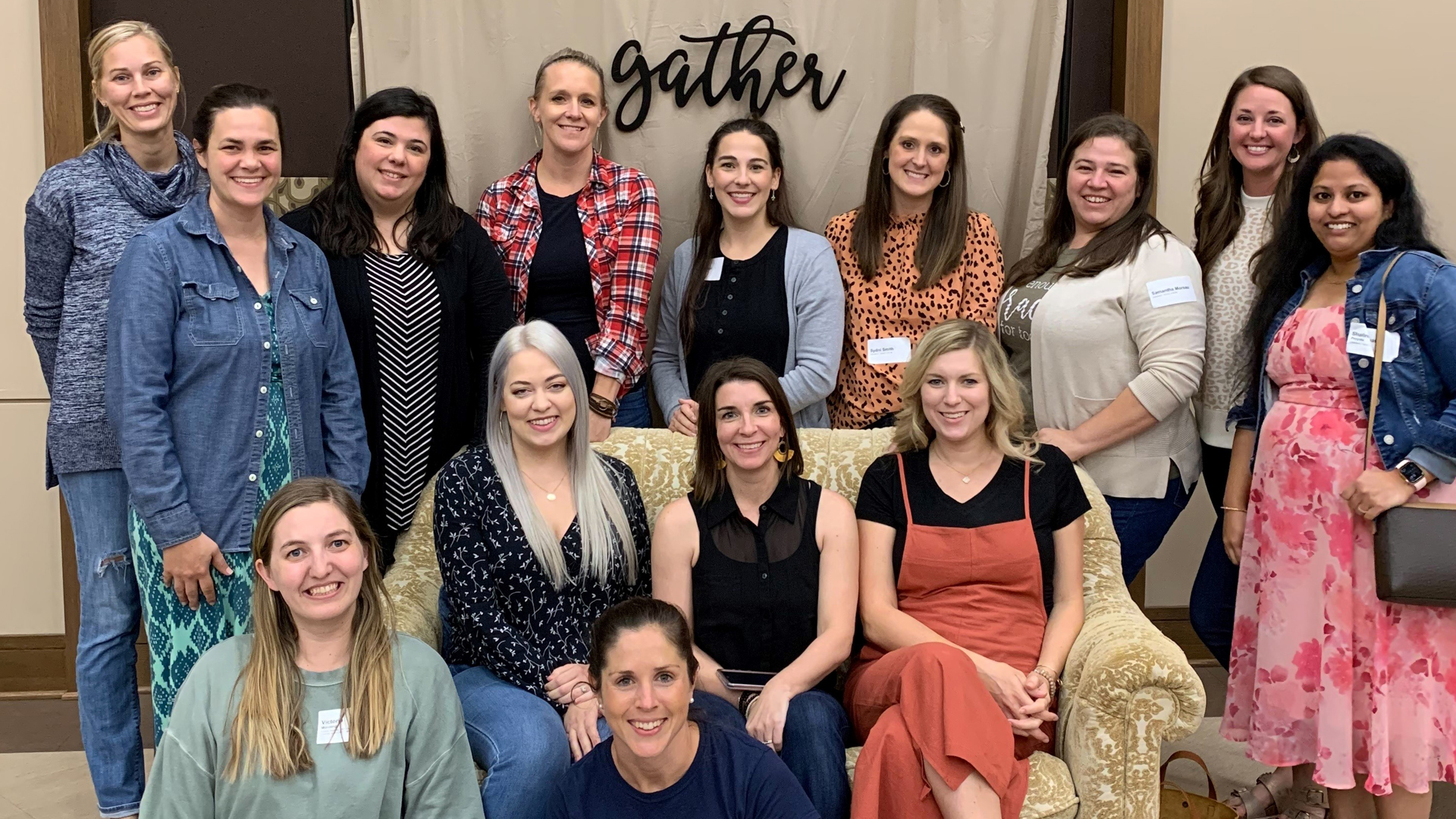 Women's Ministry is focused on the fellowship and discipleship of women of all ages. Throughout the year we host large and small gatherings for the purpose of fellowship and encouragement from other women. One of those large events is called Gather. Smaller events relate to prayer, Bible study, and specific ministry projects. We offer discipleship groups exclusively for women to be challenged and encouraged in their faith. For more information about Women's Ministry, like our Facebook page.
Men's Ministry
Men's Ministry is focused on the fellowship and discipleship of men of all ages. Throughout the year we host large and small events for the purpose of fellowship, encouragement and putting our faith into action. Some of those large events are Men's Breakfast several times a year. Smaller events relate to prayer, Bible study, and specific ministry projects. We offer discipleship groups exclusively for men to be challenged and encouraged in their faith.
Senior Adults
Our senior adults want to share the gospel with the next generation. They share their faith, support missions, and participate in multiple ministry projects throughout the year. Many senior adults are connected to classes at First Baptist Christian School, and others minister at area assisted living and nursing homes.
Seniors also gather the last Thursday of each month for a Prime Time with a guest speaker and music to inform and inspire their faith. Trips are planned frequently and include day trips to area attractions as well as week-long get-aways and conventions.
The Prime Time Singers is a senior adult choir that meets twice monthly and presents concerts periodically.
Prayer
At First Baptist Lafayette, we seek to encourage, teach and develop a praying church at every opportunity, both corporately and privately. To support this effort, a Prayer Room is available for those who wish to pray at the church building on Sundays. At fbclaf.org/pray our website offers an online method for submitting prayer requests and praying for the requests of others. Men meet weekly at a local restaurant for breakfast and prayer. The Prayer Blanket Ministry provides Prayer Blankets to those who are experiencing serious or terminal illness. Twice each week the church staff gathers for an extended time of prayer together.
Missions
Missions is effectively part of all we do as First Baptist Lafayette. Through the Cooperative Program of the Southern Baptist Convention we give 10.5% of undesignated receipts to further the cause of missions and ministry around the world – including support for over 5,000 missionaries through the International Mission Board and North American Mission Board, six Southern Baptist seminaries, and Send Relief, a collaboration for compassion ministries that responds to natural disasters, cares for refugees and displaced families, fights human trafficking at home and abroad, supports adoption and foster care efforts and helps strengthen communities facing economic and physical crises.
Each year First Baptist members participate in mission trips. These trips occur primarily, but not exclusively, during the summer months. Activities range from backyard Bible clubs and evangelistic crusades to construction work, medical missions, musical concerts, and other efforts to share the love of Christ around the world. For information about mission trips email .
Special church-wide emphases four times each year support missions in the local association, state, nation, and around the world.
FOR MORE INFORMATION ABOUT ADULT MINISTRY:
Scott McKenzie
Minister of Education
337-593-3660