The Compassion Experience
Daily, from 05/18/2018 to 05/21/2018, 10:00 AM - 5:40 PM
Compassion International
Compassion International is a child-advocacy ministry that pairs compassionate people with those who are suffering from poverty. The ministry releases children from spiritual, economic, social, and physical poverty. The goal is for each child to become a responsible and fulfilled adult.
Compassion's work has grown from modest beginnings in South Korea in 1952 when American evangelist Rev. Everett Swanson felt compelled to help 35 children orphaned by the Korean conflict. Today it is a worldwide ministry where millions of children are now reaping the benefits of one man's clear, God-given vision.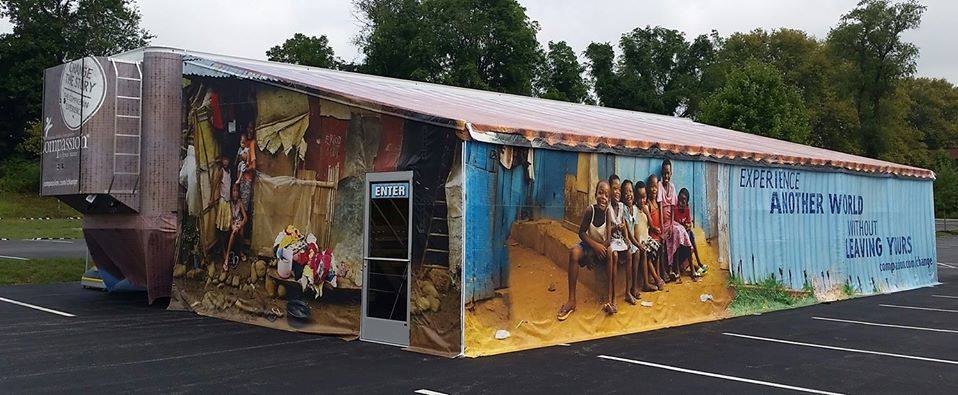 The Compassion Experience
Visitors to The Compassion Experience step into the life of a child who has suffered under the crippling weight of poverty. But the journey does not end there. In the span of less than 30 minutes, they will travel with that child from hardship to hope. And in the midst of hope, they will watch that child's story transformed through the support of Compassion and the child's life-giving relationship with a sponsor.

The Compassion Experience will challenge your views of poverty, transform your understanding of the world, and move you to be the change for a child that just needs someone to believe in them.
Exhibit Content
Is it suitable for young children?
Yes. It was designed with the whole family in mind and stories with sensitive content have kid-friendly audio versions. Parents should preview the content for each story to make the right choice for each child.
Is this a religious event?
Compassion International is an openly Christian organization, and each of the children's true stories will include a theme of their faith, as it made a significant impact on their ability to escape poverty. We want all our guests to feel comfortable and welcome because it's our goal to increase awareness in each community about the realities of extreme poverty and the difference we all have the opportunity to make.
Will I be pressured for money?
No. There will be an opportunity to sponsor a child at the end of your experience, but it's not required. You will not be asked for a donation for attending.
The location listed is a church. Do I have to be a church-goer? Is the church going to ask me for anything?
No. The event will be set-up outside in the church parking lot. It is open to the public and there will be no solicitation from the church.
Planning Your Visit
Is it free?
Yes.
Is it wheelchair-accessible?
Yes. There will either be a lift or a ramp for one of the stories (due to space constraints). Once inside, the doorways are regulation-width and there are ramps where needed.
Can I bring a stroller?
Yes. You may choose to park it before you enter because space inside the tour is limited.
Will you provide the headphones?
Yes. We will provide every visitor with a freshly sanitized iPod and headset. Custom headphones and hearing devices with 3.5 mm jacks are permitted.
How long does it take?
Plan an hour. Even if you have a reservation, the walk-in crowd and wait times fluctuate. There will be either two or three different story options which take approximately 15 minutes each. Ticket-holders can enter the priority "Registered" entry line upon arrival for the first story only. If you choose to stay and experience additional stories, you will be directed to the walk-in line to wait for our next opening. This is so we can accommodate the next round of registered guests.
Can my whole group go through together?
It depends. 3-5 people can enter together every 5 minutes. If you have between 6-20 people in your group, plan to arrive under the same reservation and then take turns going through. If there are more than 20 people in your group we will do our best to arrange consecutive reservation times. Prepare your group for a wait in line either way.
Is it climate-controlled?
Yes, to an extent. The experience is covered and climate-controlled with portable A/C or heat units depending on the weather. Every once in while the line to get in will extend past the canopy, but our staff and volunteers will do their best to keep the line moving.
Will the event be cancelled if weather is bad?
Not likely. Since we have a sturdy canopy and trailer, we are open rain, snow, or shine. If severe weather becomes a safety threat we will email everyone who is registered. You can also call our weather hotline anytime for up-to-date event information: 844-841-6938.
For more information contact:
Ray Swift
Administrative Pastor
337-593-3644