Please note - some information on this page is inaccurate due to the COVID-19 pandemic. Please email if you have questions about something you see here.
Sunday School

Our Student Ministry is designed to reach teenagers, help them grow in faith, and encourage them to influence others with the gospel of Christ. Join us Sundays at 9:30 a.m. for small groups. Students meet together at the beginning, then move into smaller groups (guys or girls, Jr. High or High School) with an adult leader for Bible study.
Discipleship
Sundays at 4:30 p.m. students explore ways to own their faith through specific studies during the year. We learn it's okay to question as long as we filter those questions through the Bible and to God in prayer. The focus of Youth Discipleship is not only to learn Scripture, but also to apply that knowledge to real life situations.
Youth Worship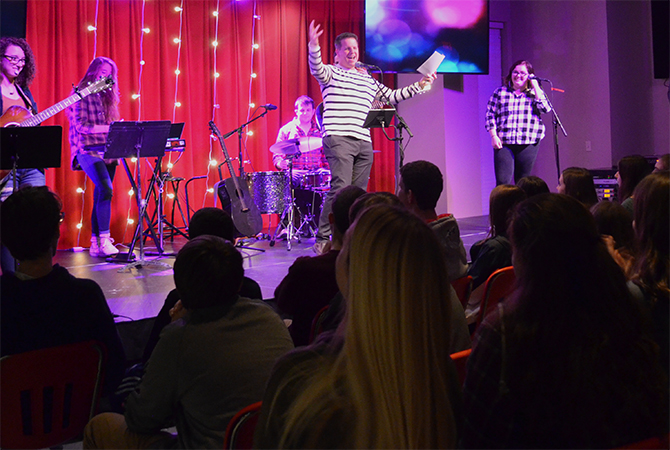 Meeting every Wednesday at 6:00 p.m. in the Youth Area, IGNITE is a relaxed time of worship through music, a biblical message, games, videos and more! Show up early at our café to order food and snacks. The grill opens at 4:30 p.m. and closes at 5:45 p.m.
Music and Worship
The Youth Choir is for students in grades 7–12. The goal of this ministry is to raise up students with a heart for passionate worship! The Youth Choir also participates in mission opportunities where students learn that worship is more than singing! If you want to be involved in life-changing ministry that impacts our community, state, nation and world, then check us out!
Special Events / Trips
Any time we take trips together, we get to know each other even better. Throughout the year the Student Ministry offers a variety of events, such as See You At The Pole (SYATP), Youth Evangelism Celebration (YEC), Disciple Now Weekend, Spring Retreat, SPIRIT Week, FUGE Summer Camps, and mission trips (like The HUB in Shreveport and Mission Lab in New Orleans). These special events will help students learn to serve others, make new friends, and even develop new skills while having a blast at the same time!
FOR MORE INFORMATION ABOUT YOUTH MINISTRY:
Brad Gill
Minister of Outreach and College
337-593-3656